A snowman card to make !
What is the origin of Christmas cards?
Christmas cards became popular in Victorian England, but originally they were mostly home made and given to dear ones. The first card appeared in 1843 and was produced for Sir Henry Cole, the founder of the Victoria and Albert Museum. Cole was too busy to write his own greetings, so he asked an artist John Calcott Horsley to draw a card for him.
This early card was a hand colored print and show a happy family enjoying the holiday spirit of the season. On either side were depicting acts of Christmas charity: to the left, it show the poor people being fed and to the right, to give them some warm clothes.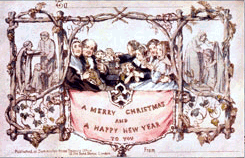 Under appears the now familiar phrase "A Merry Christmas and a Happy New Year to You", with space at the top to put the name of the recipient and at the bottom for the name of the sender.
... another curiosity about Christmas card.
The first charity Christmas card was produced by UNICEF in 1949. The picture chosen for this card was painted not by a professional artist, but by a seven year old girl, called Jitka Samkova. She painted some children dancing around a maypole and she said her picture represented "joy going round and round".