Make a decoration of the most famous reindeer: Rudolph!
Instruction

You need:

brown, black, red, pink and white paper;

black crayon or marker;

sissors;

glue.

1 Cut one head from brown paper.

2 Cut first two horns from pink paper, then cat four antler horns.

3 These will make two sets of horns. Assemle then as shown.

4 Draw a mouth with a black crayon or marker.

5 Cut a nose from red paper.

6 Cut two eyes from white paper and two pupils from black paper and glue in place.
Do you remember the names of the reindeers?
Rudolph pulls the sleigh from the front and with his big red nose lights the way for all the other reindeers.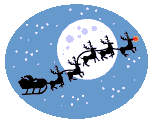 The names of the other reindeers are: Dasher, Dancer, Prancer, Vixen, Donder, Blitzen, Cupid and Comet.