Make a Manger 3D
Material:

an old box of shoes;

crayons or felt-tip pens;

scissors;

glue.

Cuts on a long side of the box an aperture to make the entry to the manger.

Colour personages that you want to use in the manger and then cut them.

Fold up the characters along the dotter line, and glue them in the position that you wont.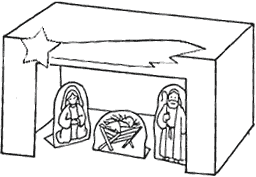 Now your beautiful manger is ready!